Compassionate, Intuitive and Effective Guidance through

To guide you to your own wisdom to live authentically, heal trauma, improve your relationships, enjoy true Intimacy and conscious sexuality.
So that you will hold more life force energy and joy within and achieve prolonged states of cosmic, orgasmic bliss.
Are you challenged by any of this?
Common human experiences can cause us to fall short of our true potential. These can include:
When we live burdened by these feelings and experiences, we become blocked. Living this way leads to passing on trauma. The healing of the future depends on healing the present and starts with you as an individual.
You deserve conscious blissful living
I understand your pain and suffering…
Because I got the point where I could not bear to no longer be myself. I felt beaten down, empty, confused, and like a failure. I took a leap of faith, got help, and got out of it. Now, I can guide you to freedom and worthwhile life.
I know how to show you the way out…
Because I have spent more than a decade researching, practicing, and embodying numerous techniques and pathways to discover my own truth and the keys to understanding trauma. I understand that trauma is the basis of most suffering. It is pivotal to understand trauma to release and heal pain. Approaches include Polyvagal theory, somatic sexology, deep relaxation tools, attachment patterns, conscious relationship tools and how to integrate these into your life, Now I use this knowledge to guide people like you to break free of your limiting belief systems and self-sabotaging patterns to help you feel free and worthy of an orgasmic life.

Begin the magical journey of healing your heart
Step 1: Bool a € 10 Consultation to see if you resonate with me and my healing approach.
We will look at where you are and where you want to go.
Step 2: Receive a roadmap to your healing.
We will work together to identify and implement tools, techniques and practices for your healing journey.
Step 3: Experience freedom, authenticity and true connection.
Our work together will allow you to integrate with your true self, leading to a life experience filled with more intimacy, sensuality, joy and love.
Are you ready to step into your transformation? Schedule your first appointment to begin your magical journey of living the life you want.
"If you do not want to address your shadows, your next relationship will."
– Bea Sophia –
"My 6 week coaching session with Bea has changed my life forever (in the best way possible). I went in seeking support in working through relationship patterns, and am coming out of it with the tools to observe myself, speak up at the time, and to be the goddess that I am. At first, I was calling her my emotional intelligence coach. Then it was my "love yourself coach" but in hindsight, her insight has transformed my relationship with myself, my friends, romantic interests and business relationships. Holistic healer is an understatement."
"I have had the pleasure to work one-on-one with Bea in a conscious communication and thought healing workshop while vacationing in Tulum. From the beginning, Bea welcomed me . . . and made me feel super comfortable. She was extremely knowledgeable and relatable with her content. I continue to apply what I have learned daily and within a short period of time, I can already feel a shift in my mindset. Bea has such beautiful and magnetic energy…."
"You have this amazing ability to connect and see what the other person needs, about their trauma topics. I was open to receive, that is very necessary to bring changes. It is amazing the way that you communicate things. You are amazingly good at it. I definitely can recommend you."
It is time for love. Are you ready yet?
I am here to help you through the path of healing your heart and feeling worthy of love. You have suffered enough.
It is time to break the cycle and start living your authentic life today.
Live a life worth living, access more joy and experience what it feels like to be truly alive. I'm here with the knowledge, techniques and practices that can bring you to safety and security that you've been waiting for to live your truth and love fully.
Sign up for newsletter to stay in touch about upcoming retreats and online courses on topics related "From Trauma to Tantra"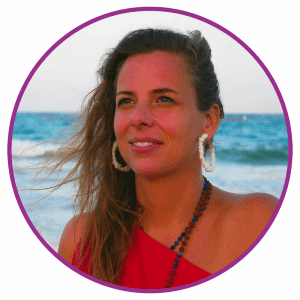 My name is Bea Sophia.  Originally from Berlin, Germany, I earned a Masters' Degree in Communication studying in Brisbane, Australia and Berlin, Germany.  While working almost two decades in the field of international business development, and traveling to over 40 countries, I started to turn my attention inward, to address and heal my traumas.  I now journey the world sharing the wisdom of transforming trauma into consciousness, love and connection.
For over a decade I have studied numerous modalities related to trauma healing, consciousness, and intimacy, seeking to identify effective practices in creating positive change and healing.
I draw my inspiration from influence that include:
The "From Trauma to Tantra" sessions, workshop series and retreats are centered around the facilitation of a new sense of awareness and being. I enjoy sharing insights and skills in the form of practical techniques for the manifestation of a more aware, relaxed and connected living.
My mission is to empower people to reclaim their sovereignty and reach their full human potential despite their individual, collective and ancestral traumas.